There are 4.66 million internet users worldwide, meaning more than half of all of the people living on the Earth are your potential customers. Creating digital brand strategies is a unique part of building your business in 2021. Using a creative digital strategy can mean marketing to hundreds of thousands of internet users that may never lay their eyes on your brand. An effective and intentional digital strategy is certain to take your brand to the next level.
As you're creating your central focuses for content for this coming year, use these 12 digital brand strategy tips.
1. Focus On Issues
2020 was a year of important social issues taking center stage of the media. The public is extremely passionate about society, and movements sprung up all over the United States.
Creating a socially-conscious brand for your company is an effective way to use your brand for good. It will help you mobilize these social movements alongside your customers. Shareable content can provide resources for movements. You will enact change and sends positive messaging attached to your brand name.
Digital platforms are a great way to raise funds for nonprofits, as well. Consumers expect the digital brands they support to be socially conscious. Fundraising for important causes is the most concrete way for a brand to solidify its support.
Donating a portion of profits from a digital brand's sales increases brand awareness. It shows strong social responsibility principles and helps your company grow with a positive foundation.
2. Don't Forget About Data
Data integration is one of the must-have digital brand trends for 2021. Using targeted content based on strong data analytics will take your strategy to the next level.
Collecting data through your website's traffic and the purchasing patterns of your customers will help you curate your brand. You can use these numbers to customize your website and products to the interests of your audience. You can use a platform like Google Analytics to assess your website's traffic.  It can help you iterate a website that maximizes your brand's visibility.
Get a Feel
You can't forget about your social media analytics, though. Social media monitors and brand strategists will help you to track your social media platforms. These analytics will give you data on your social media post's popularity, reach, and messaging effectiveness. With these numbers, you can iterate a stronger social media strategy. Then, you can adapt your content to fit what engages your audience most effectively.
It can be challenging to grasp an understanding of how consumers are feeling about your digital brand. In contrast to an in-person sales setting, there is little to no direct communication between the buyer and the seller in the digital sphere.
Data will help to reveal the temperature of your company with your audience and show key insights on where your brand is falling short.
3. Keep Your Customers Loyal and Engaged
Digital media removes the personal connection of business that previously existed. Previously, customers did most of their buying and entertainment in person. A manager of an online store is not able to resolve an issue with a customer, ensuring they are leaving with a positive view of the brand.
We have to use social media strategies to prevent negative content and leave customers with a positive brand experience. Due to media integration, customers of a brand can speak on behalf of the company and its products. This can be both very positive and negative for a brand.
Utilize the Power of Influencers
User-generated content about a brand is persistent, and other media users rely heavily on it when choosing brands to support.  Mobilizing positive customer-generated content can increase brand awareness and help to develop credibility.
Loyal customers and highly-productive social media users can share your content. They can engage with your brand as media influencers. People trust individuals with large social media followings to provide them with products and services that are curated.
Brands have been seeing around 11x return on investment for using social media influencers. Brand ambassadors share messages and, that will only continue to increase more.
Run Interference
Using media monitoring software and organically monitoring how people react to your brand will keep your social media strategy focused. With this information, you can continue your goal of building a positive brand. If individuals are having issues with your products, website, or brand, they can and will use social media to vocalize their concerns. When this happens, it is imperative for your brand's authenticity to respond.
Direct messaging customers that are displeased with your brand will help you understand your services in a broader sense. It will also provide solutions to valued customers. It will make your audience feel important to hear directly from the brand.
Resolving issues on social media will often help you garner public positive support, and your customers will share about their experience.
4. Define Your Goals Clearly
Your hard work will be rewarded, but it's necessary to work smart, too. That means making sure that everyone understands the business goals and is pulling in the same direction.
No two businesses are alike, so it's up to you how to set your goals and measure your success. Whatever your goals, whatever the term, remember to follow the S.M.A.R.T. method.
Specific – your goal should be easy to understand and communicate to others. One reason that projects drift is because the people involved don't understand the goal and therefore disagree.
Measurable – if you don't know how to measure success, you won't know when you are achieving it. While we'd advise you to listen to your gut, we'd caution you not to use it to measure success.
Achievable – some goals look good on paper, but defy all natural laws. An impossible goal is demotivating. By all means, be ambitious, but make sure your digital brand strategy is also do-able.
Relevant – making sure that goals are relevant can prevent a business spending a fortune chasing low returns or creating products and content that do not fit the demographic of your potential customers.
Time-bound – a goal without a deadline may be considered a dream. Set a date on which the project will be complete, therefore, and make sure to review promptly.
5. Get Everyone On Board
Your brand is more than a logo or a slogan. It's everything that the business stands for, and it's the people who work for the business. Every member of every team should be able to communicate what the brand means, clearly and concisely. If they can't, there is a branding problem somewhere, whether with the brand identity or with staff buy-in and understanding.
It's integral for everyone to understand the brand, because the staff make up the business. They can be the face of the brand, which is particularly important when they have direct contact with customers, whether that be during sales calls, dealing with in-person client requests, or putting together blogs and social media posts.
Aim to have everyone in your firm know who its customers are, the value the business brings to the world, and how it is different than the competition.
6. Differentiate
While it's wise to emulate competition when its doing well, it's also important to emphasize the differences between your businesses. Whether it's a location, personalization, the fact that it's family-run, the size of its available network, or another factor that sets you apart, use these points to your advantage.
A digital brand strategy should make your identity potential customers. This can be achieved in numerous ways, including through blog posts, such as behind-the-scenes type content and by introducing the team to viewers. By focusing on the differences between you and your competitors, you may be able to pick up customers that you can serve better than the others.
Your brand colors and logo will give your customers visual cues about your business. It's up to you and your staff to help drive those messages home so that people understand and remember your brand and share your content online.
7.Be Consistent
A significant part of your digital brand strategy should be ensuring that your branding and brand messages are consistent throughout. Everything from your website marketing strategy and business signage to website colors and social media profile banners should be cohesive. This is one of the best ways to develop trust.
Being consistent also means putting out content on a regular schedule. People come to expect content with certain regularity. Irregular gaps between posts suggest a problem and can look less professional. If a customer is looking forward to a post from you every Monday, don't disappoint her. Most businesses have plenty of competitors looking forward to picking up the dissatisfied customers of others.
8. Repurpose Your Social Media Content
One of the great things about web content is that the same content can often be used to connect with potential leads in many different ways. One long-form blog post of say 1500 words, for example, can be transformed into: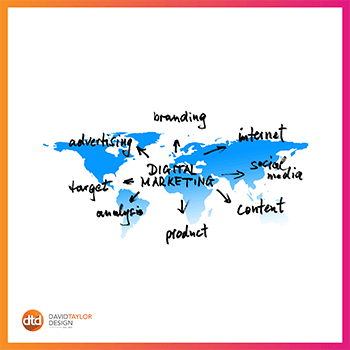 a tweet
a YouTube video
a podcast episode
a slide presentation
a lead-generating, downloadable ebook
an instagram poll
a Facebook post
a listicle
an infographic
a LinkedIn article
part of an email campaign
and more!
By tailoring the same piece of content to different formats, readerships, expectations, and styles, you can get a lot of mileage out of one blog post. It's worth rewriting content for each social media platform you use. Do this rather than cutting and pasting the same text with the only difference being length. Seeing the same text posted on different social media platforms comes across as lazy. Even more important, each site has its own demographic, style, and rules of etiquette. It's well worth the effort to tailor your content for each site so that you can achieve maximum engagement with your brand.
9. Automate Your Marketing
Marketing automation not only saves time, it can also be more effective. An email drip campaign, for example, can provide new leads with emails at just the right times to get maximum engagement. Whatever the time zone, automation can send a message at just the right time for your receivers.
Automated marketing also means reliability. For example, according to research, many businesses (as much as 75%) fail to follow up on leads after a trade show. An automated system, however, doesn't forget to follow up and it doesn't lose the details. On the contrary, it can follow-up at the best times, consistently, and help you keep track of how warm the lead is.
10. Keep Your Eye On The Latest Technology
While it's not necessary to chase every new development, it's wise to be aware of them. Some trends are powerful and it's useful if you can predict them or get in early. Some of the most effective, latest technologies, for example, include live video and voice search.
Live video can be an exciting way to engage with your target audience. It's immediate and a great way to get people interacting with your brand.
Voice search is changing SEO. Essentially, people don't always talk with way they type, so keywords for voice are not always the same as those you would choose for a text-based search. This is an interesting trend to watch and it's a good idea to be ready when changes such as these take place. They provide both challenges and opportunities.
Other technologies to watch out for include virtual reality, A.I., and the internet of things. We don't yet know exactly how these things will change businesses in the future, just as few people could have predicted the likes of Airbnb and Uber at the introduction of the world wide web. The best approach is to keep an eye on digital change and aim to remain flexible, open-minded, and responsive. Change happens fast and businesses that survive have the ability to adapt.
11. Acclimate to Changes
The digital landscape is ever-changing, as are the issues we face as a society and what is important to customers. When you think back to the beginning of 2020, we faced a completely different set of concerns and focuses.
Staying tuned in with changes, the news media, and today's issues will help you create a more conscious brand. You can't be afraid of acclimating to the changing market, new platforms, and different content types. Your digital media strategy should be a living document. It will change as the year goes on, and inventing new content should be a major part of your plan. Maintaining the status quo is no way to grab the attention of your current audience and new potential customers.
12. Grab on to New Platform Trends
New platforms are popping up constantly, and harnessing their power brings you to the next level with your digital content. Different varieties of platforms grab the attention of a variety of different audiences. Keeping a close eye on platform trends and growth in popularity is a great way to be at the forefront of developing content. You will find new and engaged audiences.
Tik Tok, a platform built on short video content, is the platform of 2021. Tik Tok utilizes a never-before-seen algorithm based on the preferences of the user. Users love seeing brands engage in Tik Tok trends.
Developing content for new platforms can be risky and provide a learning curve for content creators.
Are You Ready to Build Digital Brand Strategy Plan?
Now that we have looked at the digital marketing plans to focus on in 2021, it is time to build a plan. Staying current, integrating strong data analytics, and taking digital media strategy risks will put your brand on the board for customers. Early adopters of the newest strategies are having the most success in the world of digital brand strategy, and that could be you.
For help making your marketing objectives for 2021 come true, get in touch with our professional team. We look forward to talking with you about your digital brand strategy. Whether you simply want us to help you fill in some gaps or if you want us to take over this aspect of your business, we are happy to help.
We have the experience and expertise to help craft a digital brand strategy that will help you boost your bottom line. Get in touch with us today for more information by contacting us here. Alternatively, please email us at [email protected] or call us at 973-317-8765.