OUR FACEBOOK ADVERTISING STRATEGY
Facebook has quickly become one of the greatest platforms to advertise your business or organization. Ecommerce, nonprofits, products, services, events – you name it, there's a Facebook advertising strategy for it. Though each industry comes with their own set of unique challenges and needs. Because of this, we treat each new project as a blank slate upon which we gradually build our strategy.
Like our remarketing solutions, our Facebook advertising strategy and Facebook advertising campaign management services are customized to fit the needs of each client. We can handle it all from day 1, including everything from the creation of social media accounts to the design of the ads and landing page.
We also monitor the ads and compile reports to highlight the progress made and to guide us towards improvements of future campaigns. Total involvement in this process is also tailored for each client. Some clients want to be updated on a daily basis, while others only want reports after reaching certain milestones. As with everything else, this is totally customizable.
Still on the fence? Here are some of our favorite aspects of Facebook advertising strategy: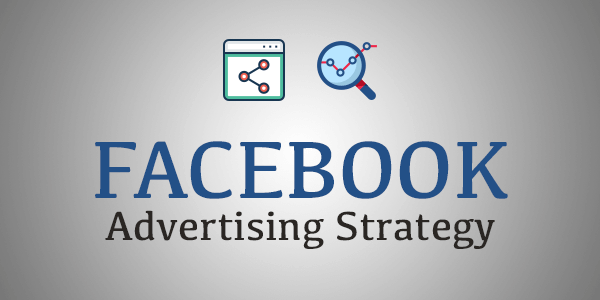 Budget – No one beats Facebook when it comes to minimum budgets. Facebook allows ad campaigns to start as low as $1 a day. You can also start and stop whenever you like. Many advertising platforms require some sort of commitment. With Facebook, you can launch an ad campaign and cancel whenever you please, no strings attached. This is truly the ideal scenario for anyone who wants to do a trial run in the world of Facebook advertising strategy.
Demographics – Facebook is also second-to-none when it comes to it's range of targeting capabilities. There are over a billion active Facebook accounts; even the most esoteric of niche markets can expect to find some customers with that sort of audience size! Their huge database also allows for some pretty neat stuff like being able to target your audience down to the zip code or by what type of car they drive! We like to have a wide array of options when advertising, and Facebook delivers just that.
Goal Conversions – We think Facebook is really good at helping you get the results you desire when it comes to goal conversion. If all you want is brand awareness, Facebook will shovel in the impressions at a CPM you can't get any where else. Looking for more form fills? Facebook can help narrow your audience to those most likely to click submit. Granted this isn't all done automatically, though the fact that they have these capabilities set in place to assist with Facebook advertising strategy is what sets them apart from most other platforms.
Instagram Ads – Instagram is a 100 billion dollar company for a reason. Millions of people love it and these millions are on it every day. Instagram is an integral part of our Facebook Advertising Strategy. For the vast majority of companies and organizations, Instagram advertising is a no-brainer. Facebook owns Instagram, and therefore owns the advertising rights as well. This means you can run the same ads you created for Facebook on Instagram with just the click of a button. You can also make completely separate ads for Instagram if you like. Simplicity, flexibility, this platform has it all.
We could list a handful of other great things about Facebook advertising strategy, but why write about it when we can just show you? If you are interested, we can have your trial Facebook ad campaign up and running in a matter of days! Click below to get started on your custom Facebook advertising strategy today!