You finally went for it and decided to start a business. Or maybe your business has been around for a while but needs a refresh. What's your first step? Probably building a great-looking website. This can be a big step, and if you aren't familiar with web design, you might be feeling overwhelmed at the thought of finding the right web designer. There are many factors that go into choosing the right designer for each specific business, so we want to make sure you have our best advice on why it's important to hire a pro, how to pick the right one, and how to make sure all those questions you have are getting answered.
Hiring a professional designer is the first step when it comes to building the website you've always dreamed of. But trying to choose between the thousands of designers out there is a challenge. Knowing what makes a good designer and discovering how they can help you be successful is an integral part of choosing the right fit for you.
5 Reasons Why You Should Hire a Professional Website Designer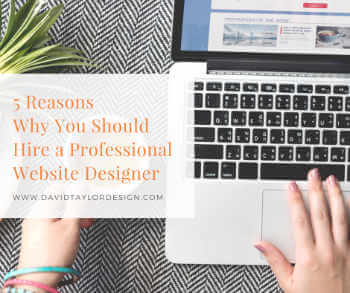 By now, you should realize how important a website is to your business. After all, this digital face usually greets people way before a brick and mortar space does nowadays. That reason alone should nudge you in the right direction when it comes to website design—as in you need to hire a professional!
Any business that wishes to stay competitive in their online and offline market must have a clean and fresh website behind their name. Since the internet has become the first stop for potential customers to scoping out specific products and information, web pages need to be top-notch. Otherwise, these curious consumers will move on to vendors with better, more secure websites.
Though generating sales and increasing brand trustworthiness remain important factors when building a website, here are 5 more reasons to convince you to hire a professional web designer:
Time-saver
Let's face it, you don't know that much about web design or even what your business needs to succeed online. Fortunately, professional site creators already have streamlined processes in place that make the task more manageable. They know where to start, what questions to ask, how to communicate your brand's message, and how to use layouts to your advantage. Plus, hiring an expert frees up more of your precious time to focus on running the business.
Custom Design
You can expect a special layout created by a professional just for your business. You'll get a unique website that suits your goals and needs while providing a competitive advantage. DIY websites are a dime a dozen and have their limitations, so a custom design built for your brand helps you stand out in a crowd. Your business will definitely establish some online credibility!
User Experience
Just like you, consumers don't like to be bombarded with flashy colors and hard-to-find information on a site. A web creator will know how to effectively use your brand's color scheme and text to keep visitors on the page. He/she will also know how to create an intuitive and hassle-free experience for customers to promote your brand's reliability. This will keep them coming back for more.
Keeping Up with Tech
There's always something new online. New technologies, computer code, fancy layouts, and more. Luckily, it's the job of designers to know these trends and how to use them successfully. Your website will have the latest technologies and functions designed to draw users in and keep them interested. DIY sites usually lack in this area, which snubs these great opportunities.
SEO
The key to getting found amongst a mountain of websites is through search engine optimization (SEO). Professional website creators know how to successfully follow best practices to get your site optimized. Some of these guidelines involve page load speed, relevant and good content, responsive design, and conversion tactics. Otherwise, search engines won't be able to find your website, making the whole endeavor fruitless.
Not only that, but best practices constantly change, making upkeep even more important. Designers will keep updating your website to make sure it stays compliant and fresh so you don't have to. Search engines love when websites are refreshed on a continual basis and reward this effort with higher rankings.
A lot of business owners don't understand the importance of good web design. They also don't see the impact a poorly developed site has on a company. With the internet at people's fingertips, and user-intent getting more specific, why take the risk? Hiring a professional web designer will definitely save you time and money in the long run.
What Makes a Good Website Designer?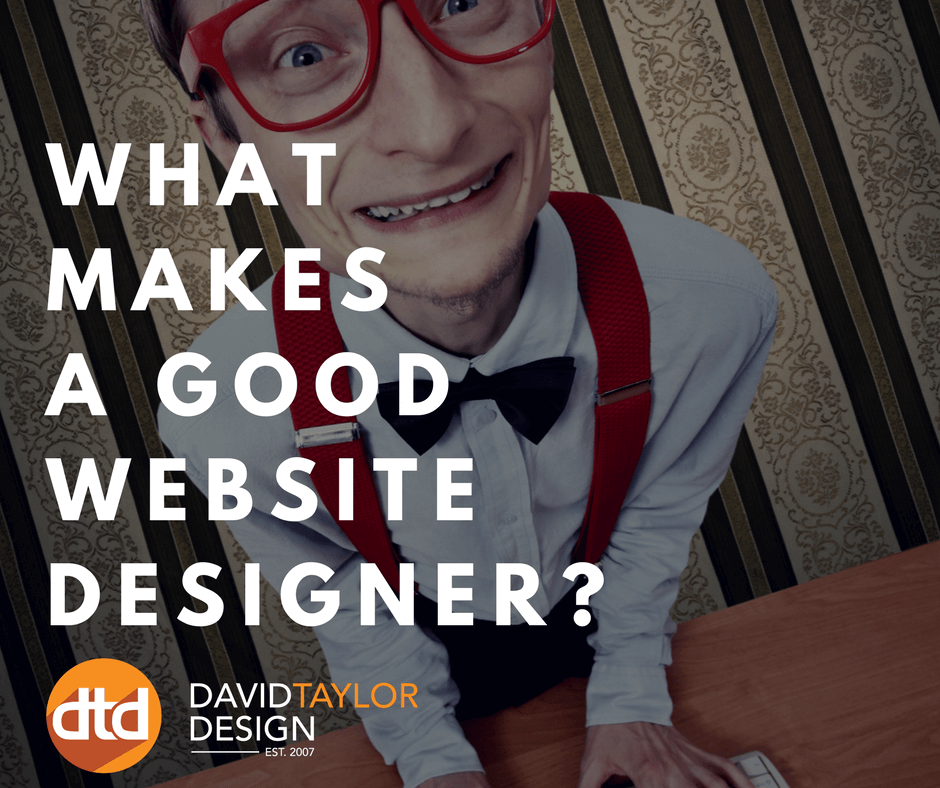 A good website designer can be hard to find, especially if you don't know what to look for—and you definitely don't want to find out too late that you hired the wrong developer for your website. If you're in the process of looking for a good website designer, first start with their portfolios.
Looking at samples of a website designer's work is a great way to find a web designer who shares your style, and talking to past clients can help you make sure they work well in collaboration with others. But before you decide to hire someone to design your website, make sure to look out for these qualities that make great web designers:
Flexibility. While you want to hire a web designer who is highly skilled and trained in his or her field, you also want to make sure they're quick to listen to your needs and flexible with their solutions, to be sure they can create a website that fits you perfectly. Though it's important for you to get advice from your web designer, it's just as important to make sure that they will listen to your feedback, concerns, and input as well. Otherwise, your website project could end up causing a lot of frustration, and maybe even the creation of a website that you don't like.
Eager to learn and teach themselves. Web design is a highly technical skill, and in the ever-changing world of new technology, it's important that designers are willing and eager to learn new things, create new solutions, and keep up-to-date with new technologies. Many designers and developers have to spend time teaching themselves new skills and languages to make sure they provide the best service possible for clients.
Though the developer may not need to learn any new skills to make your website, be sure to make sure it's something they're willing to do. You don't want to be held back from your dream website by a designer who simply doesn't have the skills to create it.
Attention to detail. When designing and developing websites, small details make a big difference. A small change in code could mean the difference between a clean, well-designed page and a page riddled with mistakes—and even whether features on your website function or not. In order to create and maintain a clean, attractive, user-friendly, and functional website, a good web designer needs patience and a strong eye for detail.
Creativity. A good web designer is someone who is creative—and not just in art and design. Though artistic creativity and an eye for design are crucial to building a great website, web designers should also be able to creatively solve problems and come up with solutions in order to create a website that has all the design and functionality you need.
In order to make sure your web designer has the creative eye and mind you want, talk to any web designer you're considering about how you'd like your website to look and what you would like it to do. Talking through your ideas and getting input is a great way to see how a designer's mind works, and to make sure that they can offer expert advice and come up with personalized, creative solutions.
Why Your Website Design Company Must Have A Project Manager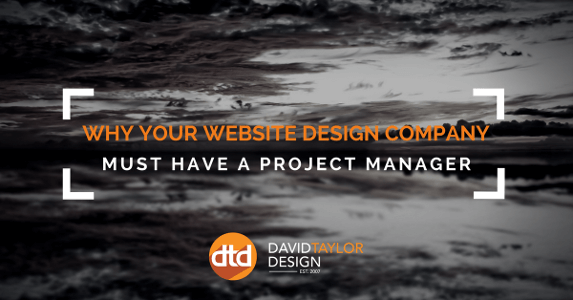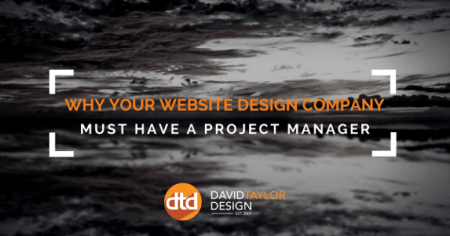 First off, what is a Project Manager? The short and sweet version is that Project Managers are responsible for organizing, planning, monitoring, and managing projects. They are the glue that binds the different elements and phases of a project together for proper execution that accomplishes the goals of a project.
Every Website Design Project Has A Lot Of Moving Parts
Specifically, in a website design and development company, there are multiple cooks in the kitchen. Copywriter(s), designer(s), developer(s), search engine optimization specialist(s), and possibly photographers could all be involved. There also might be more than one specialist of each aspect in the project (depending on the scale and timeline for the project). Having that many people collaborating in addition to the client (and their team); can be a bit hairy without organization and structure.
If your website design company doesn't have a Project Manager, Account Manager, Project Coordinator (or something along those lines); you may be headed for a disaster waiting to happen. There need to be at least one individual managing all of the parties involved to minimize risk, ensure proper execution, and to hit targeted milestones and deadlines. If your project doesn't have the glue to all of the various aspects then the project will fall apart at the seams.
Who's Your Main Contact At The Website Design Company?
Who will you be in contact with regarding the project? The designer? Developer? Copywriter? Who will organize the meetings and keep you on tabs with the progression of the project? If you are working solely with the owner or designer, you might want to rethink about how much money you are investing and if you are content with how the project is turning out. If there has been a lack of clarity resulting in misunderstandings, if you have missed multiple deadlines, or if you are at a complete standstill with the project—you'll inevitably end up going over your budget in both time and money.
You could be getting a "great deal" or bargain on this project, but you may be getting what you pay for in terms of quality and execution. But if the project drags on because the person you're dealing with can't answer your email or pick up the phone because they're too busy, that bargain price starts to get very expensive as the weeks and months start to add up.
A professional project manager is focused on one thing and one thing only, keeping your project on track.  They set deadlines for all parties involved and make sure that those deadlines are met.  Keeping your website design project running like a fine watch.
If you are questioning the companies you are evaluating, give us a call and we will give you an apples-to-apples comparison of what you are getting versus the services we could offer you.
Survival Guide To Finding An Awesome Website Design Company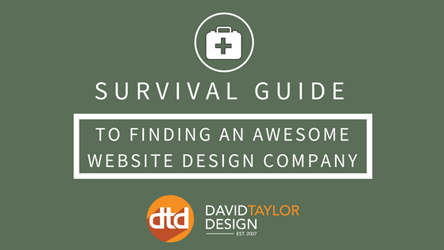 Having a good website is a crucial part of any business, brand, or organization. Intuitive, simple, and informative sites add legitimacy to any brand or organization—no matter what you do or what you're trying to achieve. But websites, especially good ones, take skill, design, and know-how that only professional web designers can provide.
You may find, however, that it can be difficult to find web developers you trust to create the website you need (especially if you're new to web design and development). Here's our survival guide for finding an awesome web design company that can give you the best website for your brand and your goals.
Before you begin your search for a web design company, make a list of what you need from the website. Try to think of all the functions and features you need, as well as how you want to organize the information that you'll need on it; and if it's a website update you need, make a list of the changes you want to be made to your current site. Think about the design, too, if you have something specific in mind, so you can make suggestions and ask the right questions when you do meet with web designers.
Don't worry if you don't know the specifics of web design and can't think of specific features. If you're new to the online world, think of what you want the site to accomplish and communicate that to potential web designers.
While you're doing your research, look through web designers' online portfolios. These portfolios will both give you a better idea of what you'd like your website to look like and will give you an indication if the designer can create the website you want. Looking through designers' portfolios can also help you to know what's possible for your website and give you ideas for functions and features you may not have thought of before.
After reaching out to potential web design partners, here are some questions to ask yourself that will help you choose the right one for your new website:
Do they communicate well?

During the process of discussing your future website, is the company easy to get a hold of? Do the designers and developers listen to what you have to say and brainstorm with you about your website?

Do they offer advice and expertise?

Explain your goals for the website to your potential future web designers, and see if they have ideas about how to make the site optimized for what you need.

What does their service include?

Make sure you know the exact terms of a company's service. Do any of the features you need or want cost extra to create? Does the company include revisions in their pricing or will any revisions require more money—or even another contract? And, similarly, if you don't know the general pricing of websites, make sure to reach out to more than one web design firm and compare their pricing to make sure no firm takes advantage of you.
Do they value content? A great website design company should ask about your content and the organization of your website because though the design is important, the information your site contains is the reason for your online presence in the first place. Make sure to hire a web design firm that knows how important your content is and can offer expert advice on how to best display it.
8 Secrets to Success From a Top Website Designer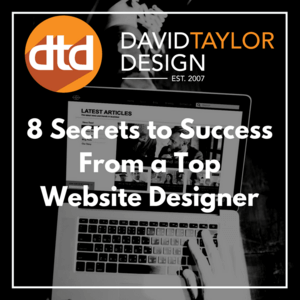 Nowadays, just having a website simply isn't enough. With all the competition that's out there, businesses of all types and sizes need to have a website that establishes a strong online footprint and brings in revenue. If you're creating a new website or redesigning your current one, here are eight secrets that will help you create a website that benefits your business and helps you stand out amongst your competition.
1. Choose a theme that's right for you
A theme is a pre-designed web page or set of web pages that helps users create websites by simply plugging in content and media. There are thousands of free themes and themes that cost money (on average $50 per theme). When choosing a theme, it's important to realize that the most important thing to consider is how the theme suits your business's style, goals, and mission. Just because a theme looks great in the previews or looks great for someone else's business doesn't mean it's the right theme for you. Some of the questions to ask yourself when choosing a theme include the following:
Is the theme simple enough for me to use?

When the website is up, will it be easy for my customers to use?

Is the theme compatible with multiple browsers?

Is it easy to add a page?

Should I have a problem, does the theme manufacturer offer help?
An invaluable asset to help you make your final decision is reviewed from previous customers. If a theme has lots of great reviews, it usually is a good choice.
2. Your website needs to be responsive
A responsive website is one that can be viewed and interacted with across multiple platforms. Because an estimated 50 percent of traffic is generated from phones, iPads, and other electronic devices, having a responsive website is a must for success. After creating your website, you should check to make sure your website looks perfect on screens of all shapes and sizes. If it doesn't, changes may need to be made or an expert may need to be consulted.
3. Images should serve a purpose
Two of the most common mistakes people make when creating a website are using too many pictures and/or pictures that mean nothing to the user. Pictures should be used sparingly and they should serve a purpose. When choosing pictures, think about which ones will engage your users and easily lead them into your website copy and content.
4. Copy should be clear, concise, and persuasive
The copy on your site should be strategically placed. It should be easy to read, make sense, and include the following:
An opening line or paragraph that grabs the user's attention

A body of factual information that tells the user how your products or services can benefit them

A call to action
It's important that your call to action includes a button or some form of contact information so the user can act immediately.
5. Content should be useful
For customer relationship and search-engine optimization purposes, the content on your site should be useful to your users and establish you as an expert in your field. Like your copy, it should also be clear and concise.
6. Test to measure success
A/B testing is a method of testing different versions of your website to see which one works best. In order for your website to be as successful as possible, you have to continuously run A/B tests to make sure what you're putting online is generating revenue and benefitting your users.
7. Make decisions, but be a team player
In many ways, web design is an art form. The value of your site is in the eye of the beholder. Decisions can and should be made by you, but the input and opinion of your employees and customers can be extremely useful.
8. Look at web design as an ongoing process and long-term investment
Once your website is up and running, the work has just begun. A successful website is one that evolves with your mission, values, and goals. A/B testing ensures that you're making the right moves, and investing in ways to improve your site ensures that it will create increasing revenue.
When created and maintained properly, a website can take your business to a new level. Rather than leaving your website and your business's success to chance, you can hire an expert to help you from start to finish. The decision is one that will save you time, money, and frustration. When you're ready, please contact us. We'd love to learn about you, your business, and your online vision.
Now that you know our best tips for finding the right web designer it's time to get down to business and get all those questions answered. Not only do most people who are searching for a web designer have a million questions, but the company you hire should be asking you plenty of questions as well. It's important to know what to ask your potential web designer, but it's equally important that they ask you enough questions to learn about your business, what you stand for and what your overall goals are. This will ensure that they truly care about you and your success versus just the money they will make off of your business.
Your Top 4 Website Design Company Questions Answered
1. How much will it cost?
Cost tends to be the number one factor in one's decision-making process. The time and effort spent on a website is a substantial investment that yields profits long term. So investing a lot of money in an intangible product can be difficult to swallow. To answer the cost question, unfortunately, varies on what you need
Do you need to accept donations or payments?

How many pages are on your website? 5? 500?

Do you need a new logo?

What about copywriting? Will your team supply new text for the site or do you need someone to write it for you?

Do you have SEO keywords and phrases for the copy?

Do you need ongoing support or have an interest in SEO campaign?

Do you have special integration features or functions for the site?
Depending on your needs will shift the overall cost of the website. The more features and functions you need, the higher the price tag. If someone offers to create your website (regardless of how many pages and functions) for a thousand dollars or less, run. The inexperience of hiring your cousin's, friend's, boyfriend's nephew to save a few dollars will leave you regretting it. You shouldn't always make your decision based on the price tag for that reason. Weigh in your options as to who you will be directly working with as this project could take months to complete and you don't want to be stuck with a jerk. You might want to consider basing your decision off of these guidelines:
Are the referrals reputable and successful?

Do you like all of the portfolio pieces?

Are you satisfied with the customer service?

Are you comfortable with the individual that will be handling your project from start to finish?

Do you have a positive gut feeling about the company?
2. How long will it take?
The duration of your project can vary due to the services you need. If you need a logo it could extend the project for about two weeks. If you need copywriting services, this could increase the project duration by about a week. Website design phase can typically take two weeks time. The development portion of a project can take anywhere from two to five weeks depending on the complexity of the features. In a best-case scenario (when all approvals are met in a timely fashion) with minimal features, a website design and development project can take about 6-8 weeks.
Now, getting approvals is what delays the project or can push the launch date. Sometimes it takes clients' about a week or more to get approval from board members. If you are aware of specific turnaround times from your organization please note this to your website design company so they can properly manage your expectations and hit your deadlines.
3. Will I yield better search engine results?
If you hire a great website design company to design, create content and manage the ongoing SEO efforts; your answer is absolute. During the first month or two of launching a website, you will see higher visits in Google Analytics because you have friends, family, clients checking in at the new site. After that time the traffic will taper off because there isn't a new motivation to continually increase the visits. This is where SEO campaigns come into place. New blogs, backlinking, updating content quarterly, and keeping tabs on your competitors will boost traffic to your website. So if your main goal and concern are to generate more leads from your website on a long term basis, you should highly consider an SEO campaign.
4. What happens after the website is launched? Then what?
So you have this fabulous new website, now what do you do? You should send an e-blast to all of your clients showcasing your new look and branding. You need to make sure that the site is being monitored for hacking attempts and being scanned for viruses. You will also need to keep updating content (blogs) on the site in a continuous fashion to keep new users coming to your site. If you want to use your site as more of a marketing tool then you should consider an SEO campaign to continue the traction you receive on your website. The amount of effort you put into your website should be equivalent or a bit greater than the profits received.
5 Questions About Website Design Companies You're Too Afraid to Ask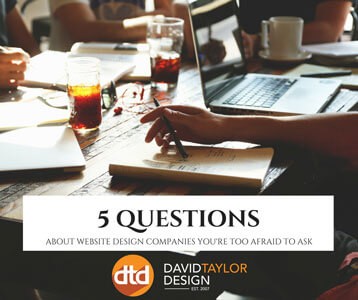 Looking for a web-design company involves more than just finding the right aesthetic and price. It also involves collaborating with a company that values your business while becoming a partner you can trust. After all, your website will be an extension of your company and needs to be treated as such.
Though a quick search provides a sea of endless web design companies out there, you can arm yourself with helpful background information for a less confusing experience. The task of interviewing and selecting the perfect design provider isn't easy, but if you ask the tough questions right out of the gate, you'll be well on your way.
1. What core services do you provide? If a web-design agency can fulfill your project's needs from design to marketing, then it's a safe bet that they have the expertise to give you great results. Don't be afraid to ask if all of these services, like development, design, and marketing, are up to industry standards. They should also be able to develop a mobile responsive site and mobile applications that work seamlessly with your website. Ask how their SEO practices have helped increase traffic in the past and how they will tailor it to your unique brand.
2. What is your track record? This question will show you the reliability of an agency. Ask about their past clients, past results, and examples of projects similar to your business. If they haven't worked with businesses similar to yours, ask about their ideas and what challenges they might expect. You should also ask how they maintain client relationships throughout the process and beyond. A web design company should have a colorful portfolio that shows their attention to detail and client needs. The agency should have avid listeners and problem solvers that don't offer one-size-fits-all solutions.
3. Can I make changes later? Since websites change constantly, it's important to know how to facilitate these changes. Some companies charge hourly for adjustments while others provide a hassle-free Content Management System (CMS) for clients to freely use for basic updates. Look for a design agency that gives you the power to make your own changes without sending an invoice. However, some changes require the expertise of a developer or programmer, like new page layouts and animations, so it's important to ask how much this would cost.
4. How do you measure results? If the answer to this question is a bit technical, don't worry. Just listen for terms like unique visits, time on site, inbound links, conversion rate, bounce rate, and rankings. Remember that it's definitely OK for you to ask for term definitions and a basic rundown of how these work together. Then, you should ask what numbers to expect for your particular website. Even most experts won't have exact numbers, but if a web-design company has worked with similar clients, providing rough estimates shouldn't be a problem.
5. How do you base your costs? Though this may seem like an obvious question to expect, a lot of web design companies don't have a concrete layout of their pricing policies. Or they provide a very low estimate and jack up the price as the project moves forward. It's critical for web designers to do an exhaustive up-front discovery of your business and its needs so everyone's on board with what has to be accomplished right in the beginning. The scope of work (SOW) should be detailed to guarantee deadlines and budgets are kept. If you're not getting a ton of up-front questions, be cautious with the proposal and its price tag.
These questions might seem too embarrassing or hard to ask, but remember that your website needs to be a top priority and created by those who wish to see you succeed. Once you hire the right web design firm, you'll get a final result that encourages the awareness and interaction of new and returning customers alike.
5 Questions a Great Website Design Company Should Ask You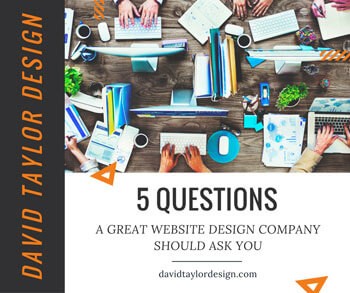 Designing a website certainly has its challenges. Choosing an appropriate look and feel for the website, understanding the industry and any competitors, and taking time to understand your needs so that the website reflects the unique voice of your business are all things to consider before building a website. Although designing a website may seem simple enough, building a great website that reflects your needs and voice is an excellent way to make you stand out, regardless of industry. That is why we created a list of five questions a great website design company should ask you. Take a moment to review this list in order to know what to expect when searching for the website design company for your business.
1. Who are your competitors?
While it may seem unusual to focus on competitors when designing a website, the idea is to identify how these companies are selling themselves online. By understanding a company's competitors, it is easier to understand the industry as a whole, and as a result, designing the website itself will be a piece of cake. If your website design company asks about your competitors, be sure not to hold back and provide as many details as possible in order to give them a clear idea of what makes your competitors stand out.
2. Do you have samples of websites that you like?
Although your website design company is technically being hired as an expert, it is extremely important that they get an idea of your style. Incorporating your voice into the final website will not only make you happier with the result, but it will offer their customers a taste of who they really are as a business.
3. What information would you like your completed website to include?
While your website design company will provide suggestions on the number of pages that should be included on your website, understanding what you would like to include will give them a better idea of what the final layout of the page should look like. Providing details on what it is that you would like to add to your website ahead of time will not only offer an opportunity for them to create a page that closely reflects your needs but it will also give them a chance to make suggestions based on their experience.
4. Do you have a professionally designed logo?
While most companies may already have a logo design that they have been using for years, a fresh new look may be in the cards, especially one that more closely reflects your website design. Offering this service will not only give your website design company a chance to re-brand your business but if you are a new company, it will offer an opportunity to create an image for your business. If you do not have a logo available and your website design company offers this service, take this opportunity to discuss potential designs.
5. Would you like your website to include images?
Adding images to a website is a great way to visually engage customers. However, some companies may not find images necessary or may not have any images available to add to the completed website. Asking this question ahead of time may allow for an opportunity for you to get creative, request photography services if they are offered, or work with your website design company to determine an alternative to images if they feel that adding them is unnecessary.