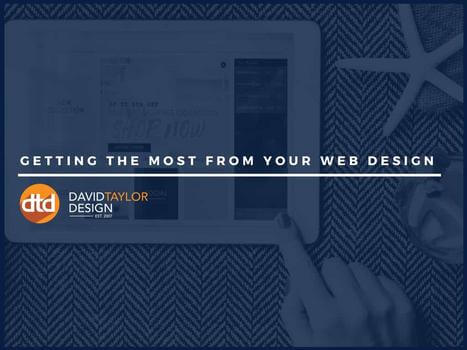 Your website's design is one of the most important factors when it comes to growing your business. It's important to make sure that you have all of your bases covered and that you're getting the most out of the website you have. There are many things to take into consideration when it comes to making sure that your website's design is working for you.
Getting all you need from your web-design company and avoiding preventable mistakes within your design are two of the biggest factors. It's also important to make sure your business's bottom line is benefitting from the design and that you're utilizing all the current design trends within your website.
Not Getting All You Want From Your Website Design Company? Follow These Steps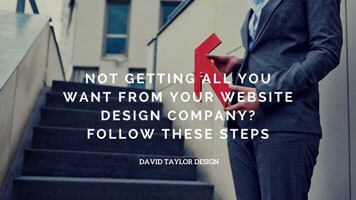 Choosing a website design company can be a difficult task. With the number of companies out there who offer the same services, finding the right one to fit your needs and distinguishing the experienced from the inexperienced may seem impossible. While most companies may work out and your relationship with them may grow other time, others may be disappointing or your vision may not be reflected in their work. Either way, sometimes you may not get what was expected from your website design company and resolving the situation may not be as easy as it sounds. If you aren't getting all you want from your website design company, then follow these simple steps to resolve the situation quickly and carefully.
Step 1: Talk to your designer about what is bothering you.
Sometimes, being direct is the best way to get your message across, but it is important to have a firm grasp on what it is that is bothering you about the website design company's current services. Does the layout of the website bother you or perhaps you do not like the color scheme that has been chosen? Regardless of the reason, be prepared before opening up a discussion on what it is that you do not like. This way, the designer is able to take your feedback and offer solutions, where possible.
Step 2: Find samples of websites that you like.
While feedback is always important, having samples of websites that you like will give the designer a concrete style that you are interested in and will make the website updates faster and simpler for everyone involved. Another added benefit of providing website styles is that during your search, you may find ideas that you hadn't previously considered. Take these samples and discuss potential changes to your current website with your designer. If you are still struggling with finding website samples, then Hubspot provides a list of website design examples that may help.
Step 3: Ask your designer if you can be more descriptive about your needs.
While providing samples is a great way to demonstrate what it is you are actually looking for in your website design, giving the designer a chance to ask questions may also provide added benefit to your website development. By giving the designer a chance to ask some additional questions, you will be offering them an opportunity to cover anything that they may have missed in previous discussions, which could help to hash out any minor details that you may have missed. This will also provide your designer with an opportunity to anticipate any potential issues and address them with you ahead of time.
Step 4: Ask your designer to discuss any changes with you ahead of making them.
While this may seem like a given, some contracts will indicate that designers have 100% creative control over the website design. If you have very specific tastes when it comes to your page, then be sure to have this excluded from your contract and request that your designer provide additional details about their vision for your page, prior to making these changes. Talking out each change before it is made could help your designer gain a better feel for your tastes and may result in them scratching specific ideas in the future without the risk of changes being seen by customers and changed after the fact, which could look unprofessional. Ensuring that you and your designer are in sync with one another could prevent a huge headache later on and create positive communication for future updates.
Now that you have some tips on getting all you want out of a web design company, it's important to make sure you're avoiding as many mistakes as possible when it comes to the design. Preventing mistakes from the beginning is the best option, but learning how to deal with mistakes when they do arise is crucial to getting the most from your web design.
How To Deal With Preventable Website Design Mistakes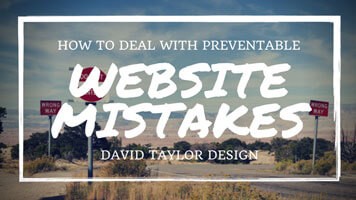 The intricacies associated with designing a website can downright overwhelming. While website design certainly has come a long way, even website creation tools that offer plugins and other functionalities such as WordPress, require a great deal of tweaking and personalizing in order to produce a professional website. Knowing the basic functionalities that create user-friendly websites is what separates the good designers from the struggling designers and ultimately, keeps the design work flowing. While this level of detail may not come easily for some, there are common website design mistakes to keep in mind that if known, may improve your final design. Below is a list of preventable website design mistakes and how to deal with them.
Failing to add a search bar.

Although a search bar may not seem like a big deal to some in terms of website completion, a full website with several pages and sub-menus can be difficult to navigate for users who are unfamiliar with a business's website. Furthermore, for business pages that sell a great deal of merchandise or produce a lot of content, search tools may be just the thing that customers need to find what they are interested in purchasing or reading.

Creating a poor layout.

One of the first things that users will notice about a website is the layout of the page. User-friendly websites offer a layout that is simple for users to locate what they are searching for with zero trouble and little-to-no effort. When it comes to layout, there is no "one size fits all" package. But every designer should focus on creating a page that guides users to what they are searching for. And the website should be functional on mobile devices. We live in the digital age where users frequently access websites through their phones rather than a desktop. Creating a website that is functional for both platforms is crucial to a user-friendly layout.

Forgetting to set links to open a new window.

While every link does not have to open to a new window, since browsing may be slower, forgetting to include this is equally as detrimental and could result in lost readers. Since readers may become distracted by the content that they open, it could result in driving traffic away from your website. If a new window fails to open, then users may forget or avoid returning to your page. If you are wondering when it is best to set links to open a new window,

HTML Goodies

suggests ensuring that you have clear and obvious links along either the top of the page or running along the left side of the page.

Excluding social network links.

In today's climate, social media is crucial to capturing your audience and truly getting your name out there. The best way to get users interested in following you on social media and getting to know your company, blog, etc., on a different level is to add social media links or buttons onto your website. The best way to do this is to incorporate the buttons in a place where it makes the most sense. While some users opt to add these buttons at the top of their homepage, others include them on the sidebar, depending on the final layout. If you are looking for ways to add social media to your website,

Social Media Examiner

creates a detailed guide on the best way to incorporate it.
The Biggest Website Design Mistake You Don't Want To Make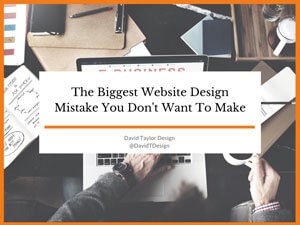 When designing a website, everyone involved usually has a different idea of what it should look like. This goes for marketers, designers, and clients, which makes the task that much harder. However, taking into consideration the valuable input and insights of these experts will help make those final decisions a bit easier.
Keeping this in mind, it's important to remember that many mistakes will occur throughout the website-making process. Though it's not easy, you'll learn from these mistakes, which will result in a stronger site you can be proud of.
The biggest mistake you have to watch out for is thinking you won't have to update your website on a regular basis. You won't ever have a perfect site that doesn't need modifications weekly or even daily. A successful website's performance depends on these crucial changes so it can attract a wider audience. But how do you know what changes will work? Unfortunately, a lot of A/B testing has to take place to see what elements of your site should stay and what should go.
Some example modifications:
Headlines might need to be tweaked and reworked for a higher click-through rate (CTR).

Navigational issues that may be confusing to guests.

The need for supplementary pages to further convince users of your brand/product.

Color schemes that may not coordinate well.

Rewriting content so that it's clear, concise, and understandable for a worthwhile experience to your audience.
Expecting a lot of changes and modifications right at the start of this important process will put you ahead of the game. Though you'll have a great team supporting your website, don't be worried if the initial design doesn't come out on top. Just make sure your team remains accessible so you can make these changes anytime.
Even after you create and launch a fully functional website that attracts visitors, you will still have to make updates for continual success. This is not a "set it and forget it" type of project.
Why You Should Always Modify Your Website
Constant indexing
Every time you provide additional content like blogs, videos, articles, and downloads, web crawlers will be inclined to stop by and let the search engines know. This means you can keep moving up in the search engine results page (SERP), especially Google, for more exposure.
More keywords
When you publish new blogs or articles, these will naturally contain keywords used for search engine ranking signals. However, remember not to "stuff" your articles with keywords since Google and other search engines will know what you're up to. Just write naturally for your audience, and those ranking signals will be automatic.
Increase your authority
If you keep providing users with top-notch, helpful content, you'll obtain loyal customers. This level of users can't be bought, which makes it very valuable. Search engines can see these types of relationships and will help make you an authority in your field.
An informed audience
It should go without saying that a constantly updated website shows users that you're alive and active. They'll be well aware of any new and exciting information from your business, which will lead to loyalty. Plus, you'll be able to generate more leads to further expand your audience.
Overall, you should embrace the fact that to be successful, your website will be a living and morphing branch of your business. Avoid the huge mistake of not making the important changes and modifications necessary for success. Remember that your competition is making these improvements all the time, which could leave you in the dust in the long run. So keep updating and modifying until you know what works.
Is Your Website Design Working For Your Business?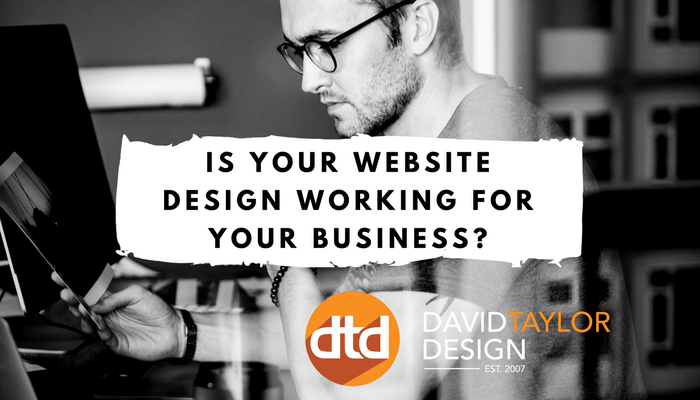 A website remains a vital piece in any business's marketing strategy. The act of researching a store or brand before doing anything else is now becoming the rule rather than the exception. This means that websites are the virtual face of a company right from the beginning and should be treated so.
Gone are the days where the main function of a web page was to look pretty with a few widgets here and there. Now they actually have a huge impact on marketing strategies by being useful tools in reaching customers.
That being said, bad websites could cost businesses thousands or more in potential revenue. Have you noticed a drop in rankings? Or an unmentionable ROI (return on investment)? How about fewer conversions and new customers?
If you answered yes to any of those, your website might not be working for your business. Here are a few possible reasons for your web woes and how to fix them:
The DIY disadvantage.

Cookie-cutter sites are a dime a dozen, and your business doesn't deserve this one-size-fits-all solution. If you don't have previous design experience, hire a professional to create the custom site of your dreams. He or she will make a beautiful website that truly communicates your brand and its goals. Not to mention the

leg up on the competition

you'll have just for having a professional-grade virtual welcome center.

No list-building.

An email or newsletter sign up should be high on your priority list. With Facebook and Twitter rolling outfeed changes constantly, it's hard to keep up with your audience. Therefore, email might be the most reliable means of communication with them. So go ahead and add an eye-catching newsletter signup form right now!

It's not user-friendly.

You'd be surprised at how many business owners don't take into account their visitor's wants and needs on their website. These kinds of sites try to accomplish many things all at once, making navigation extremely difficult. Good sites lead users around easily using clear buttons and links. There's a definite structure so that visitors aren't confused where they should go next. Put yourself in the customer's perspective and click through your site to see if it's logical. You can even ask others to do the same and accept their feedback.

No clear target audience.

Bad web pages try to target everyone all at once, creating a big mess. They throw a lot of information all at once, making it harder for users to find what they really want. It's better to understand your most frequent visitors and tailor the website to their needs. Create the best user experience for them by leading them through useful pages with conversion paths along the way. Develop rich and relevant content that speaks to that specific audience. They'll love you for it!

It's not responsive.

Did you know that

80% of internet users have smartphones

? Did you also know that

60%

of internet traffic comes from mobile phones? So it's a no-brainer that web pages have to work just as well on these devices as a desktop. Bad web design clearly presents itself when you have to wait for a big page to load on a mobile phone or tablet and then find yourself scrolling left or right just to read the content. Make sure your website displays properly across all devices and browsers, otherwise you'll be testing peoples' patience and losing customers.

Bad rankings.

SEO (search engine optimization) is a major component of how a site fares on the internet, especially with all that bustling competition. Unfortunately, this can be tricky since algorithms and rules change constantly. However, these industry guidelines must be understood in order for a site to be successful. Keep up with new changes, and consistently update your site with great content and strategic improvements to show search engines that you're worth it.
If your business's website isn't working as it should, retrace your steps and see what improvements need to be made. That might mean hiring a professional designer. Remember, a good website focuses on offering the best user experience possible. Just tweaking your cyber presence to follow the above guidelines will do wonders.
Utilizing your website's design to benefit your business is a great opportunity you shouldn't skimp on. And taking advantage of the latest design trends can increase your chances of success when it comes to standing out in a crowd of beautifully designed websites.
5 Ways To Make Your Website Design Stand Out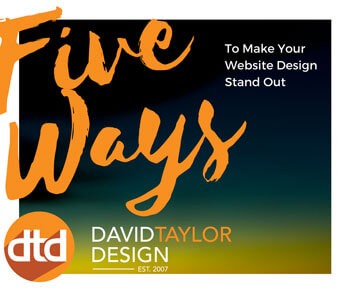 When it comes to designing a website, it is important to incorporate your industry's tone into your design while also giving your company a unique voice. While there are certain layouts that may be strongly preferred or easier to work with in general, the layout itself should not impose many restrictions on creativity. And as long as the navigation is user-friendly, creating a website that stands out from the crowd should be a piece of cake. If you are interested in creating a site that really grabs the attention of its visitors, then consider these five ways to really make your website stand out from the crowd.
Add eye-catching imagery.

Images as a whole can really make your site pop. The challenge is ensuring that the right images are chosen and that they aren't the standard stock images that every website tends to use. When choosing images for your website, quality is important and should reflect what makes this site unique. If you are having trouble determining if an image is right for the site you are building, consider these tips from

Website Magazine

.

Add a splash of color.

Colors can really make a website stand out, especially as an accent to a sea of boring black and white stimuli. Using the colors of your brand or adding colors that complement the season are all fantastic options to incorporate color into your website design. Be careful not to be too overzealous with your crayons! Although color definitely is encouraged, according to

Econsultancy

it is important to use it sparingly.

Get artistic with your headers.

Headers are a fantastic and simple way to make your site stand out from the crowd. While changing colors and font for headers will certainly keep things interesting and draw in the focus of any visitors, choosing any font simply will not do. Companies such as

United Therapeutics

make the most of their space and even take a unique approach to their header.

Create a clear separation of content. 

This point is especially important and is something that many first-time website designers often miss. The best way to approach this is to think of yourself as the customer. Keeping the content too consolidated runs the risk of information spilling into other areas of the page while spreading things out too much could make the page look empty. The key here is creating balance on your site. A great way to achieve this is by starting with the layout. Creating a layout that is both easy on the eyes and simple to navigate means less clutter (more detail on that in a moment) and happy customers.

Less is more. While this point may seem a little confusing, especially considering the points above, it is important to note that balance is important. Creating a website design that incorporates all of these elements is important to stand out among the competition; however, it is also crucial to avoid too much "noise" on your site, as this could be distracting for the visitor and may even result in the carefully constructed navigation or even the option to subscribe may be missed. When creating the site, take a step back and give your finished product a thorough once over through your customer's' eyes. If you are having trouble finding certain functions or even the website's purpose, then that is a clear sign of too much clutter.
4 Website Design Trends You Can't Afford To Ignore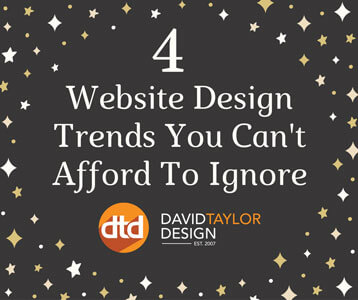 Creating a website is a lot more complicated than you might first think. You've already overcome the hurdles of obtaining a unique URL for your business, have researched the differences between wordpress.com and wordpress.org, and have chosen a design for your site that accurately reflects who you are as a business. But you're not out of the woods yet. There are constant changes being made in the website design world, and there are always new innovations and trends that you need to be aware of. If not, these omissions or oversights on your site could lead to severely reduced traffic, which in turn will most likely lead to fewer sales for your company. Here are 4 website design trends you can't afford to ignore…
A regularly updated blog section. Having an easy way to update content and news is crucial for every website—for many reasons. Consistently adding blog posts adds more content to your site, which improves SEO and makes it easier for potential readers, clients, customers, or anyone, to find you. Though a potential customer, reader, or fan might not search for your website by name, the more content that's housed on your website, the more likely it is that people will search for something that's contained there. You can add as much (or as little) content as you want to, and create it at your own pace. Just having extra news and updates can help your site look much more legitimate and trustworthy to visitors than websites without, which often come across as static and outdated. Plus, more available content means that visitors have more reason to spend even more time on your site.
Background and hover animations. Between social media, digital ads, and websites all vying for users' attention, any given website visitor's online experience is crowded and overstimulating. Animations, videos, and anything else that moves on a website is important tools that can help you grab visitors' attention and keep them engaged. Background animation or video on your website's homepage immediately engages your website visitors and
holds their attention. This is a great strategy to employ storytelling – whether you're telling the story of how an agency started, giving a personal introduction to a home blog, or displaying the newest products from a well-known brand. Similarly, hover animations keep visitors engaged and attentive by displaying instant feedback. Hover animations are, essentially, movement triggered by hovering one's cursor over different parts of the website—like a closeup of a piece of clothing or the description of a new book. Hover animations reward intuitive behavior and help visitors navigate your site easily by giving more information without forcing them to click and leave their current page.
Long scroll.
The long scroll layout has become more and more popular recently, and like animations, it's intuitive and keeps your visitors' attention. Scrolling through a page doesn't require visitors to make decisions and click on anything immediately, which helps keep viewers on it for longer. Long scroll sites are also easy to navigate on mobile, which is an important point since mobile optimization has already become all but necessary for any website.
Minimalist design.
Though it may seem intuitive to give your website visitors as much information as possible at once, it's often best to pare down your message and keep the design as simple as possible. Websites that are crowded with too much information and too many calls to action often come across to viewers as outdated at best and untrustworthy at worst. Plus, the less crowded your website is, the more the important information stands out. A minimalist layout can make your site look clean and polished, whereas a lot of content can be overwhelming and confusing, not to mention unintuitive. And, since a slow page load time is one of the fastest and easiest ways to lose visitors, keeping to a minimal design is a helpful way to keep your website light and your page load time quick. A well-designed, intuitive page that loads quickly is a great recipe to attract attentive and engaged visitors.